Tanzania National Road Agency (TANROADS)
Area: Morogoro
Project: Dodoma Highway Bridge
SOW: Supply and installation of DN 900 HDPE Weholite pipes for the repair of the highway bridge after a collapse due to heavy rains. The project was completed in 2 day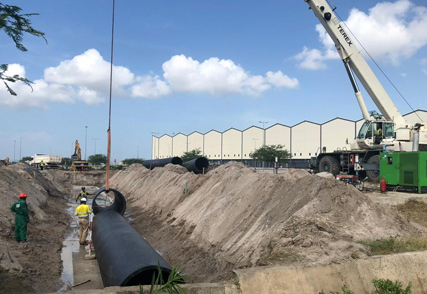 Bam International
Area: Dar es salaam, International Airport
Project: Julius Nyerere International Airport, Terminal 3
SOW: Supply and installation of DN1200 HDPE Weholite stormwater line for JNIA T3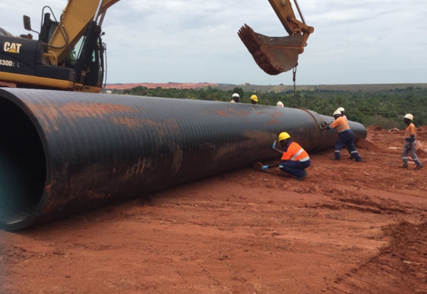 Base Titanium Mine in Kenya
Area: Mombasa
SOW: Supply and installation of DN1200 culverts made from HDPE Weholite pipes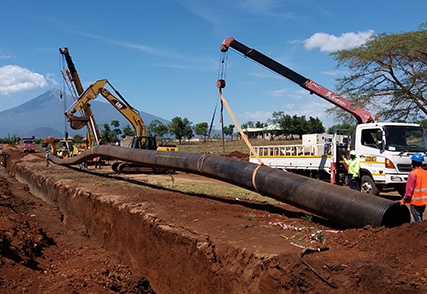 Beijing Construction Engineering Group
Area: Arusha
Project: Arusha Sewerage Extension Network
SOW: Supply and installation of HDPE Weholite pipes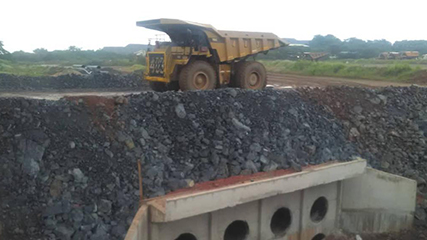 Geita Gold Mine
Area: Geita
Project: HDPE Weholite doubl –stack Culverts for Storm-water management
SOW: Supply and Installation of DN1200 pipes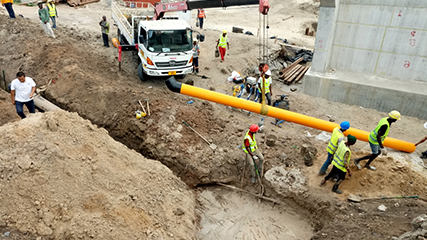 Relocation of a gas pipeline at Ubungo Flyover
Area: Ubungo, Dar es Salaam
Project: Relocation of a gas pipeline at Ubungo
SOW: Supply of gas pipes and fittings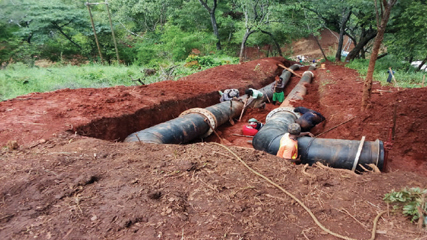 Ndolela African Plantations
Area - Madaba, Songea
Project - Penstock for mini Hydro power project for Tea Plantation.
Scope of work - Supply and install 800m of 630mm HDPE pipes and fittings.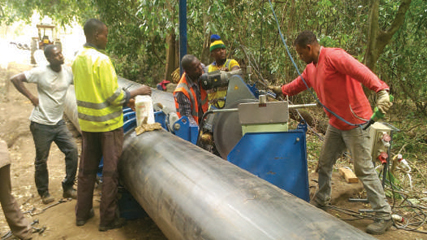 Darakuta Ranch
Area – Babati, Northern Tanzania
Project – To upgrade existing 1MW hydro scheme which was utilising 315mm PVC & Steel piping by supplying and installing 500m of 630mm HDPE piping which significantly increased the capacity and efficiency of the scheme.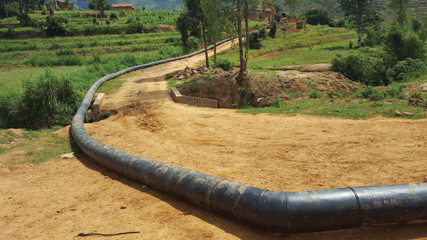 Joint Venture NPD-EMP-EWWCE Rwanda
Area – Rulindo District, Northern Province, Rwanda
Project – Muyanza Irrigation System (1,100Ha)
Installation of over 100km HDPE pipe- line consisting of 500mm to 40mm diameter pipes and related fittings.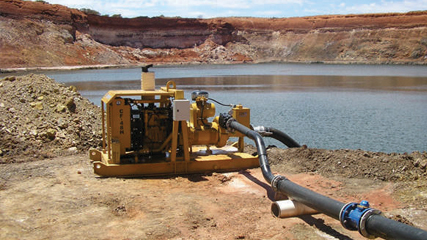 ANGLO GOLD ASHANTI
Area – Geita Gold Mine
Project
- Mine pit dewatering required to maintain mining operations especially during the rainy season.
- Uneven and rough terrain causing considerable axial forces on the pipeline
Restricted space and maneuverability
SOW :
280mm main PE pipeline
Joining of the main line by butt welding Overall length of the system 2.5km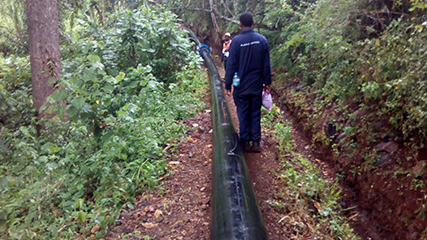 Balton Tanzania
Area: Moshi – Sanya Juu
Project: Avocado Plantation
SOW: Supply and installation of 1200m x 355mm pn10 HDPE piping for Irrigation of Avocado Plantation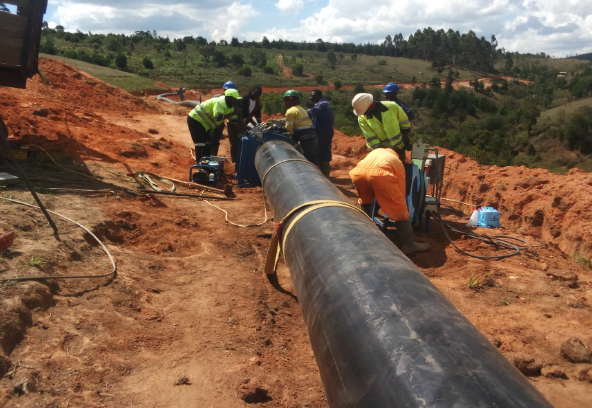 Julius Nyerere International Airport (JNIA)
Area: Ilala, Dar es Salaam
Project: Construction of JNIA that is spread over 2700 hectares and currently has 2 terminals and 2 runaways
SOW: Supply and installation of underground fire ring main, re-routing of Terminal 2 water line, foul and rainwater lines, pumped sewer line and irrigation pipelines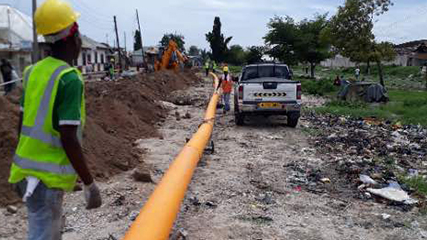 Relocation of a gas pipeline at Tazara railway to accommodate the Standard Gauge Railway (SGR)
Area: Ilala, Dar-es-Salaam
Project: Relocation of a gas pipeline at Tazara
SOW: Supply of gas pipes and fittings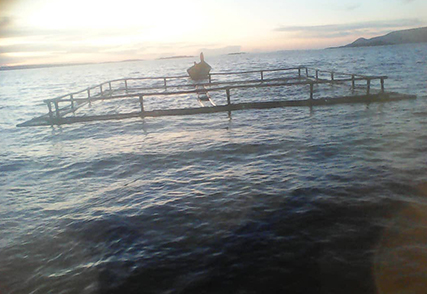 Aquasol
Area: Lake Victoria
Project: Marine cage for Fish Farming
SOW: Supply and installation of a fish farm using HDPE pipes and electrofusion fittings.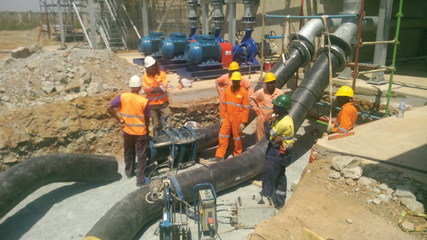 ACACIA Mining
Area – Northern Kahama (Bulyanhulu)
Project – Replacement of 450mm Steel pipes by 450mm HDPE pipes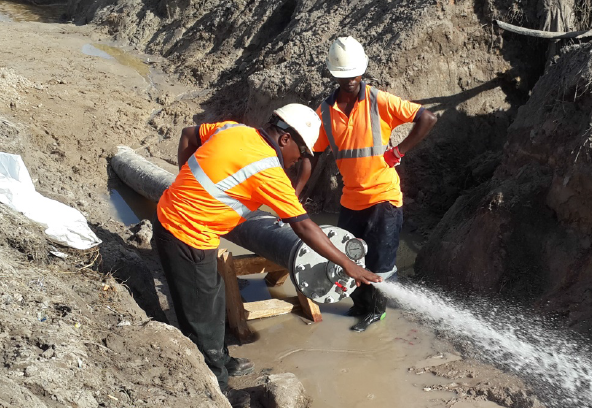 Luponde Hydropower plant
Area: Njombe, Iringa
Project: Hydropower
SOW: Supply and install penstock piping of 2500m, 630mm HDPE pipes and fittings to supply power to Luponde Tea Estate and 8 villages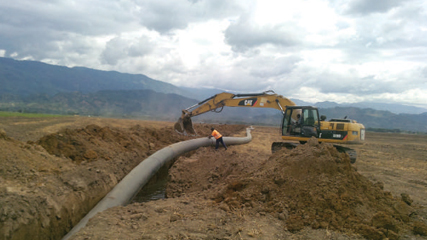 Kilombero Rice Plantation
Area – Kilombero, Morogoro
Project – Irrigation scheme to supply and install 630mm HDPE Pipes.